Walking Weekend Short Breaks in The French Alps – Aravis / Annecy
Fully Supported Walking Weekends – Alpine Hiking in France
Our Walk Weekender breaks in the Aravis / Annecy region of the French Alps give you great walking and hiking through stunning mountain scenery, plus the perfect base to relax and unwind after a long day in the hills.
Our Thursday – Monday package is the easiest, most convenient long weekend walking trip available; we will ensure that you get the most into your time away with the minimum of hassle.
Everything is taken care of, you just need to turn up at Geneva and we'll take care of the rest.
With a short airport transfer of just 1 hour, superb Alpine walking with lots of circular routes and add-on options for all fitness levels, beautiful landscape, great weather… it will amaze you how much quality hiking time you can fit into a long weekend break with Walk Weekender.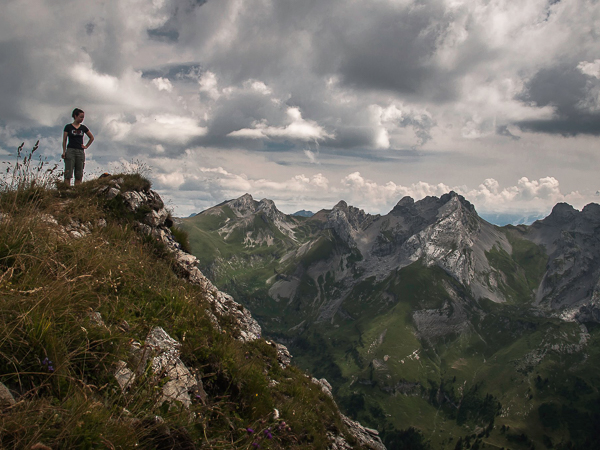 Our Dedicated Walking Base – Lake Annecy / Aravis Mountains
The Lake Annecy – Aravis region is a fantastic destination for Alpine walking… there's a huge number of trails covering a very wide range of terrain easily accesible throughout the region.
From the woods, winding streams and meadows of the valley floors, through pine forest and Alpine pasture on up towards craggy limestone peaks, you'll find walking to suit all levels of experience and fitness.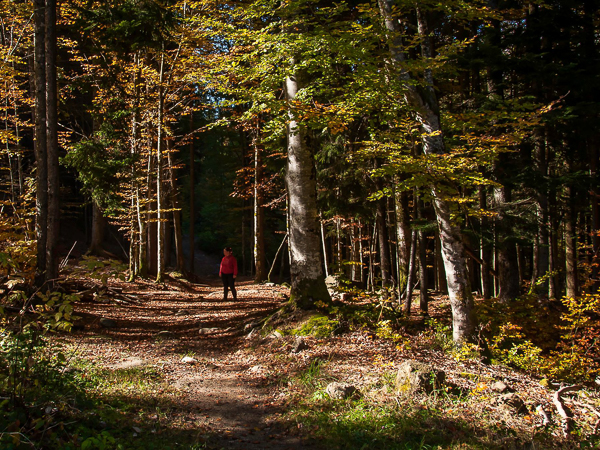 Many of these fantastic walking routes can be tackled straight out of the door of our base – the Aravis Lodge, or with a quick minibus shuttle a few km to the walks' start / end points.
Walks can be anything from 5km – 20km long, with climbing from a few hundred metres up to 1500m or more for the biggest full-day routes.
We can help with route choice and supply maps / guides, but walking and navigation are undertaken independently on each day.
Our base for Walk Weekender Aravis / Annecy packages is the Aravis Lodge, in Saint Jean de Sixt: the home of Walk, Ski and Bike Weekender.
A charming alpine farming village in the heart of the Aravis Mountains, its location ensures varied walking is possible with minimal hassle, all weekend long.
The Aravis Lodge is our home base and longest-running location. It's a sociable chalet-hotel, offering great food, comfy rooms and a high level of personal service from our resident team.
Thursday to Monday Walking Weekends – Short Breaks in the Alps
Our 4-day walking weekends in the Aravis / Annecy region have a very short airport transfer and the full support of our team at the Aravis Lodge, giving you the most time in the mountains possible over a short break.
You'll get at least 3 and a half days of walking across beautiful terrain around the Aravis mountains and Lake Annecy, and can choose from a very wide range of routes to suit your experience and fitness levels.
You'll stay at our original base, the Aravis Lodge, a home away from home in the centre of the traditional Alpine village of Saint Jean de Sixt.
As well as delicious, hearty food, you'll find comfy facilities and dedicated service from our resident team.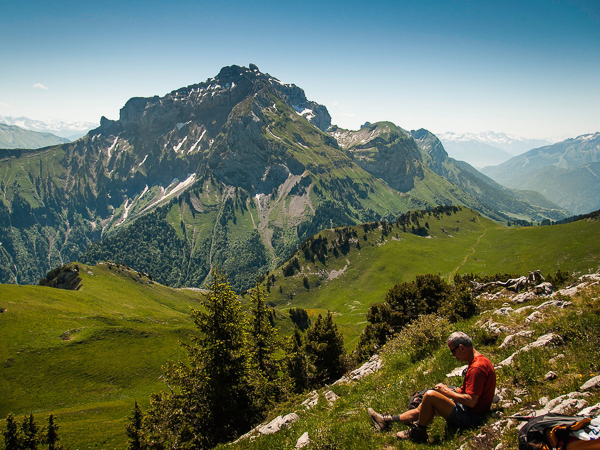 The itinerary below is just an example of what's possible on a 4-day Thursday – Monday walking weekend in the Aravis.
Contact us if you'd like more information about other walking and hiking routes in the area.
Walking Weekend Itinerary – 4 full days walking stunning Alpine trails
On each day of a walking weekend break, you'll head out after breakfast at the Lodge.
Lunch can be taken at cafés / restaurants along the walk route, or a packaged lunch can be provided for longer / more remote routes (neither are included in the package price).
After each walk, there'll be time back at the Lodge to relax before a 3-course evening meal, with wine included.
Thursday – Arrival
You arrange afternoon / evening flights to Geneva Airport. Geneva is well served with flights from the UK – see full details on travel options here >>>
Our airport pick-ups are at 17:30 and 21:45 – transfer to your base is only 1 hour. There'll be time to settle into the Lodge, before a 3-course dinner or late supper is served.
Friday – Danay to Les Confins and La Clusaz
A beautiful first-day walk giving amazing panoramic views of the region, which really help set the scene for the rest of the weekend.
A winding ascent of the wooded mountain of Danay leads to a spectacular viewpoint and then an easy descent through pasture back to the ski resort of La Clusaz.
Walk distance = 12km with total climbing of 400m
Saturday – Lac de Lessey loop to Le Chinaillon
A bigger walk with more ascent, starting and finishing in the old village of Le Chinaillon, and passing via the high farming hamlet of Mayse, the Alpine lake of Lessy and a spectacular ridge walk to the grassy peak of the 'Aiguille Verte'.
Walk distance = 9km with total climbing of 950m
Sunday – 'Balcon des Aravis'
Another longer walk, but with more horizontal distance covered… starting from the remote Col des Annes traverse the head of the Bornand valley to the high mountain refuge of Grammusset beneath imposing Pointe Percée, the highest point in the region.
Follow the base of the Aravis chain beneath another half-dozen combes and peaks, back to a pick-up at Les Confins.
Walk distance = 16km with total climbing of 450m
Monday – Croix Fry – Colomban – Departure
A final shorter walk to stretch the legs out… an easy ascent from Le Croix Fry to the viewpoint of Croix de Colomban, looking back down on the valley of Thônes.
Traverse and descend back to La Clusaz via the plateau of Beauregard.
Walk distance = 9km with total climbing of 300m
Return to base, pack, shower and change before departing to Geneva Airport. Transfers leave base at 14:00 (for flights departing after 16:45) and 17:30 (for flights departing after 20:30)
The Aravis Lodge – A Perfect Walking Base
The Aravis Lodge is set it up to cater to all of your walking holiday needs, so make yourself comfortable and think of it as your home away from home.
The Aravis Lodge has 18 ensuite bedrooms, with all bathrooms having been fully renovated in a fresh, contemporary style. Most rooms are 2-person twin / doubles; there are also four larger family rooms, which sleep up to 4 in twin / double beds plus an adult-sized bunk bed.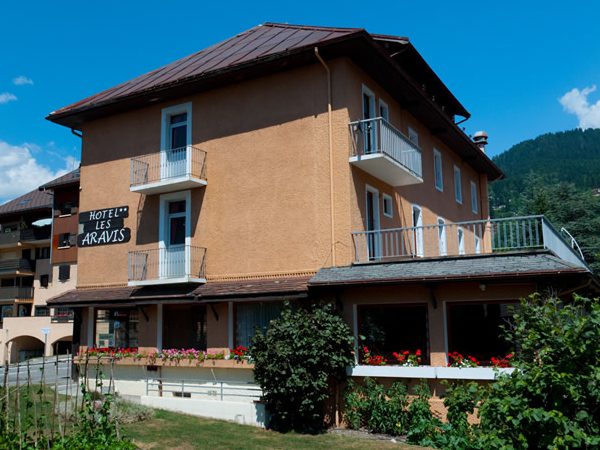 The ground floor of the Lodge has a large dining and breakfast room, with complimentary tea and coffee available throughout the day.
It also has a large, sunny lounge with comfy sofas, a smaller TV room with English satellite TV and DVD player, and a large licensed bar.
The bar has draught beers (Kronenbourg and Guiness) on tap along with a wide range of spirits, bottled beers and soft drinks.
On the basement level you will find the bike room and workshop. There is also a fully equipped gym and fitness room with CV and weights machines – in case you haven't had enough exercise already.
The modern sauna and massage room always seem to be much more popular!
Aravis Lodge Food and Drink for Walkers
All Walk Weekender breaks include half-board – a hearty breakfast and 3-course evening meal every night.
Breakfast is a continental buffet, served from 07:30 each morning to set you up for the day's walking.
Dinner is freshly prepared each evening using local produce, and served at 19:30 each day.
Menus are planned with walkers and cyclists in mind, and will fill you up with the carbs you need for the next day's hiking.
Red and white wine is included with dinner; additional drinks (draft and bottle beers, spirits and wine-list wines by the bottle) are available from the Aravis Lodge bar on a tab basis, charged on departure in Euros.
The Aravis Lodge – Images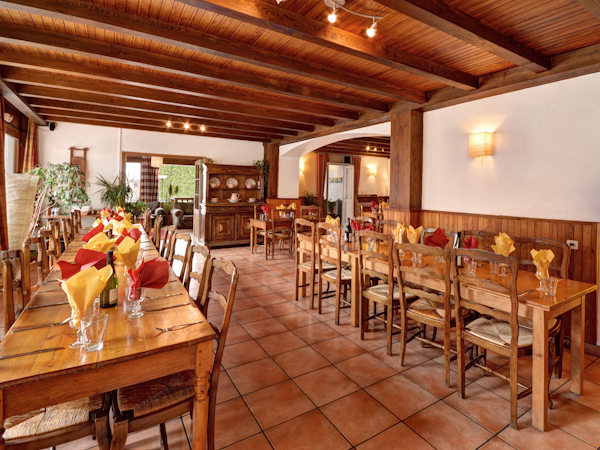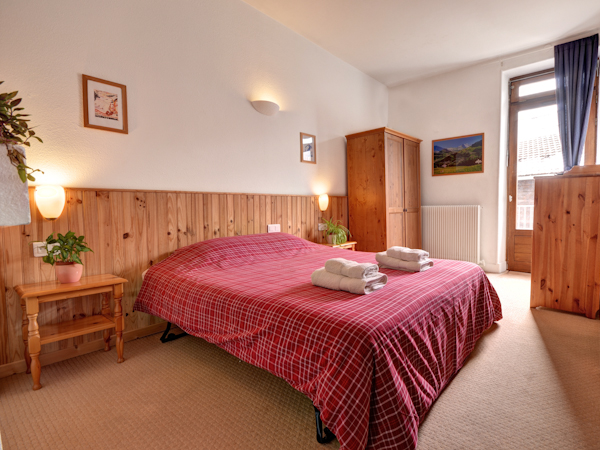 For lots more photos of the Lodge, plus reviews from our winter and summer guests,
see our Trip Advisor page here >>>
Dates and Prices for Walking Weekend Breaks – Aravis / Annecy – Summer 2022
Our walking weekend breaks are available in the Aravis / Annecy on certain fixed dates each summer, on a Thursday – Monday 4-night basis. These breaks are available to book for groups of any size.
For trips on other dates, longer stays, or holidays with a different start / end day format, we can arrange custom walking packages for groups of 6 or more. See here for more details of our custom trips for clubs and groups >>>
All prices are per-person, based on 2 guests sharing a twin / double room. Contact us for details of single occupancy options.
Group discounts for groups of 6 or more are available… see here for more details >>>
June 2022 walking weekends - Aravis / Annecy
Start Date
End Date
Price
Thu 2 June
Mon 6 June
£395
Thu 9 June
Mon 13 June
£395
Thu 16 June
Mon 20 June
£395
Thu 23 June
Mon 27 June
£395
Thu 30 June
Mon 4 July
£395
July 2022 walking weekends - Aravis / Annecy
Start Date
End Date
Price
Thu 7 July
Mon 11 July
£395
Thu 14 July
Mon 18 July
£395
Thu 21 July
Mon 25 July
£395
Thu 28 July
Mon 1 Aug
£395
August 2022 walking weekends - Aravis / Annecy
Start Date
End Date
Price
Thu 4 Aug
Mon 8 Aug
£395
Thu 11 Aug
Mon 15 Aug
£395
Thu 18 Aug
Mon 22 Aug
£395
Thu 25 Aug
Mon 29 Aug
£395
September 2022 walking weekends - Aravis / Annecy
Start Date
End Date
Price
Thu 1 Sep
Mon 4 Sep
£395
Thu 8 Sep
Mon 11 Sep
£395
Thu 15 Sep
Mon 18 Sep
£395
Thu 22 Sep
Mon 25 Sep
£395
Thu 29 Sep
Mon 3 Oct
£395
Walk Weekender 'Classic' Packages Include
Ensuite Accommodation at the Aravis Lodge, Saint Jean de Sixt
Airport Transfers from Geneva – pickup at 17:30 or 21:45 for arrivals
Airport Transfers to Geneva – depart resort at 14:00 or 17:30
Half-board – hearty, plentiful, walker-friendly food
Red and white wine with your 3-course evening meal
The dedicated service of our professional, friendly team
Not Included in the Package Price
Flights – arranged independently. See here for full details
Café / restaurant lunches whilst out walking – bought directly
Additional drinks from the Aravis Lodge bar – tabs charged on departure
Interested in a 'Classic' Break in the Northern French Alps?
If you'd like to join one of the dates above, just send through our booking form here… we'll be in touch by email shortly to confirm your reservation.
If you have any questions about any aspect of our walking holidays, our package, accommodation or the areas we operate in, just send through an enquiry form here, call us on +44 845 557 5983 or email info@walkweekender.com
Looking to book a Walking Break in the Northern Alps?