Alpine Walking Weekends – supported breaks, self-guided walking
With our tried and tested long weekend format running from Thursday afternoon / evening to Monday evening, you can enjoy 4 days of walking and hiking with just a couple of days off work.
Simply arrive at Geneva airport and we will take care of the rest – our team are there to assist and guide you throughout your short break, so you can just relax and focus on the walking.
You will head out walking and navigate independently,  but our route cards and maps (as well as well way-marked paths and trails) make this easy; you'll be able to relax and enjoy stunning mountain views and scenery.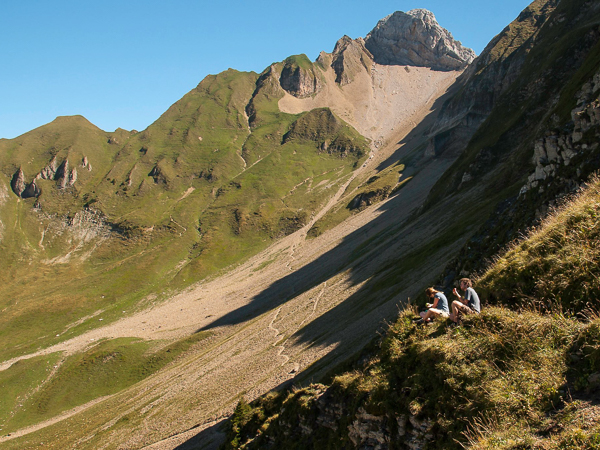 Our weekends are designed to be accessible for anyone; you don't need to be a confirmed mountain hiker to be able to enjoy the scenic beauty of the Alps, warm sunny weather and picturesque mountain villages. Anyone with a moderate level of fitness can tackle the trails and paths around and up from our local villages, and you have all day to take your time and walk at your own pace.
The Aravis Mountains & Lake Annecy – a walking & hiking dream
Our walking holidays and weekend breaks in the French Alps are mainly located in the stunning Aravis mountain range and the hills surrounding beautiful lake Annecy. From our chalet-hotel base, the Aravis Lodge, in the heart of the Aravis you can access a fantastic choice of footpaths and hiking trails that provide something for everyone.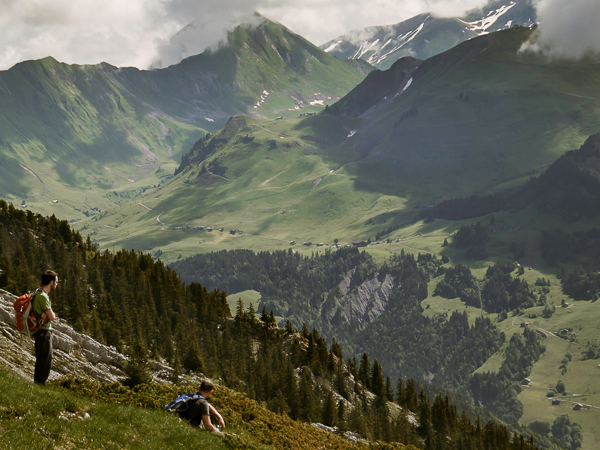 The valleys of the Aravis are dotted with wooden chalets and working farms; above these pasture rises towards limestone peaks topping out at just under 3000m. There's a great mix of terrain to walk, from valley streams, forests and meadows to higher scree slopes, broken limestone 'lapiaz' and spectacular summit crests.
Summer weather in the Alps is perfect for hiking; generally very pleasantly warm (20 – 25 degrees) and sunny right through from June to September. During July and August it can get hot (up to mid 30s), but early starts in the mornings give perfect walking weather, and mean that by the afternoon you can either be up amongst the cooler summits, or relaxing in a shady spot on your way back down to base.
Walking in Provence & the Mediterranean – Ventoux, Luberon, Côte d'Azur
Similarly our locations in the Provence / Ventoux region and the Côte d'Azur / St. Tropez region of the South of France are covered by a great network of footpaths and trails that allow you to immerse yourself in the famously beautiful landscape of Provence, soaking up sunshine and warmth and adapting to that slower pace of life and movement which makes for such a relaxing holiday.
For walking holidays we recommend visiting these locations during the early (May / June) or late (September / October) seasons, thus avoiding the full heat of mid-summer.
Our Walk Weekender breaks in these locations are availabel as Custom Trips for Clubs and Groups of 6 or more. If you'd like to experience these stunning regions of France, just contact us and we can put a trip together for you.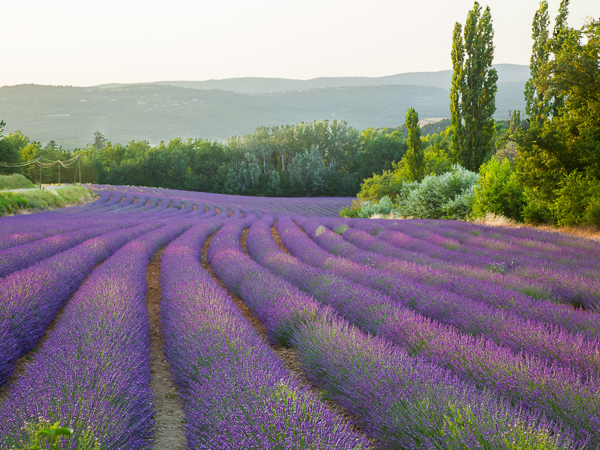 Summer Walking Weekends and Holidays in France
4 days of self-guided walking on a long weekend format from Thursday to Monday. Suitable for all levels and staying in our sociable and friendly Aravis Lodge.
This is where Walk (Bike and Ski) Weekender started; It really is the most convenient base for a long weekend active holiday, with its short airport transfer to the heart of great walking country in the Aravis Mountains and around Lake Annecy. Prices from £395pp, breaks available June to September.
Find full details of our Aravis / Annecy walking break here >>>
If you're part of a walking club or have a group of 6 or more people looking to take a walking break together, we can put together a great custom holiday for you.
Longer trips to the Northern Alps are possible, as are walking weekends and short breaks in the beautiful, sunny South of France. Our bases around Mont Ventoux and on the Côte d'Azur let you walk stunning Mediterranean landscapes, and trips can be tailored to any stay length and all levels of fitness and experience.
For more details of our Custom Walk Weekender holiday options, see here >>>
Interested in a Weekend Walking Holiday in France?